Introduction to
Sculptra Non-Surgical Butt Lift
A rounder backside is a modern sign of balanced beauty and attractive contour. There is a wide range of treatments available to achieve a more shapely and well-proportioned buttock, and determining the best option for you may seem challenging, especially when looking into procedures in the Danville, Black Hawk, and Walnut Creek areas, such as Brazilian butt lifts and implants. These surgeries can seem very intense and do carry some potential risks and complications.
At the practice of Christopher Manios, MD, we offer Sculptra Non-Surgical Butt Lift. This non-invasive treatment offers a distinct alternative that is easier to undergo with minimal downtime and side effects. This page is dedicated to the benefits of Sculptra and how a better backside is much closer to becoming a reality in your life than you may have thought.
What is Sculptra Non-Surgical Butt Lift?
A Sculptra Non-Surgical Butt Lift is a minimally invasive cosmetic procedure that uses injectable Sculptra filler to enhance and contour the shape of the buttocks. The Sculptra Butt Lift offered by Dr. Manios is a popular option for those seeking a non-invasive alternative to surgical butt enhancement procedures. Sculptra stimulates the body's natural collagen, and when injected, creates a subtle lift, adds volume, and contours the shape of your buttocks, resulting in a fuller and more youthful appearance.
In addition to larger buttocks, Sculptra can be used to fix "hip dips", which occur when there is a lack of volume between the hip bone and the upper thigh area. This is typically an attribute in thinner patients, but all body types can experience depression and indention of this area due to bone structure or a low-fat volume. Since this condition is caused by pelvic bone structure or lack of muscle mass, it is often viewed as a near-impossible fix, however thanks to this particular filler, it's now an easy way to fill in the indentations.
The treatment typically involves a series of injections spaced over several months with results that can last for years.
What are the Benefits of Sculptra Non-Surgical Butt Lift?
Our Sculptra Butt Lift patients have been able to enjoy the following benefits from their treatment:
Added volume
Customizable treatments
Minimizes cellulite
Smoothens out wrinkles
Tighter and lifted buttocks
Who are the Best Candidates for Sculptra Non-Surgical Butt Lift procedure?
Our patients find Sculptra Butt Lift an excellent option if they:
Don't have enough fat to be harvested and transferred for a BBL
Isn't interested in getting implants
Is looking for a safer, less expensive option for surgery
Maintain realistic expectations
Want a proportional look to fill in areas
Want a rounder, fuller butt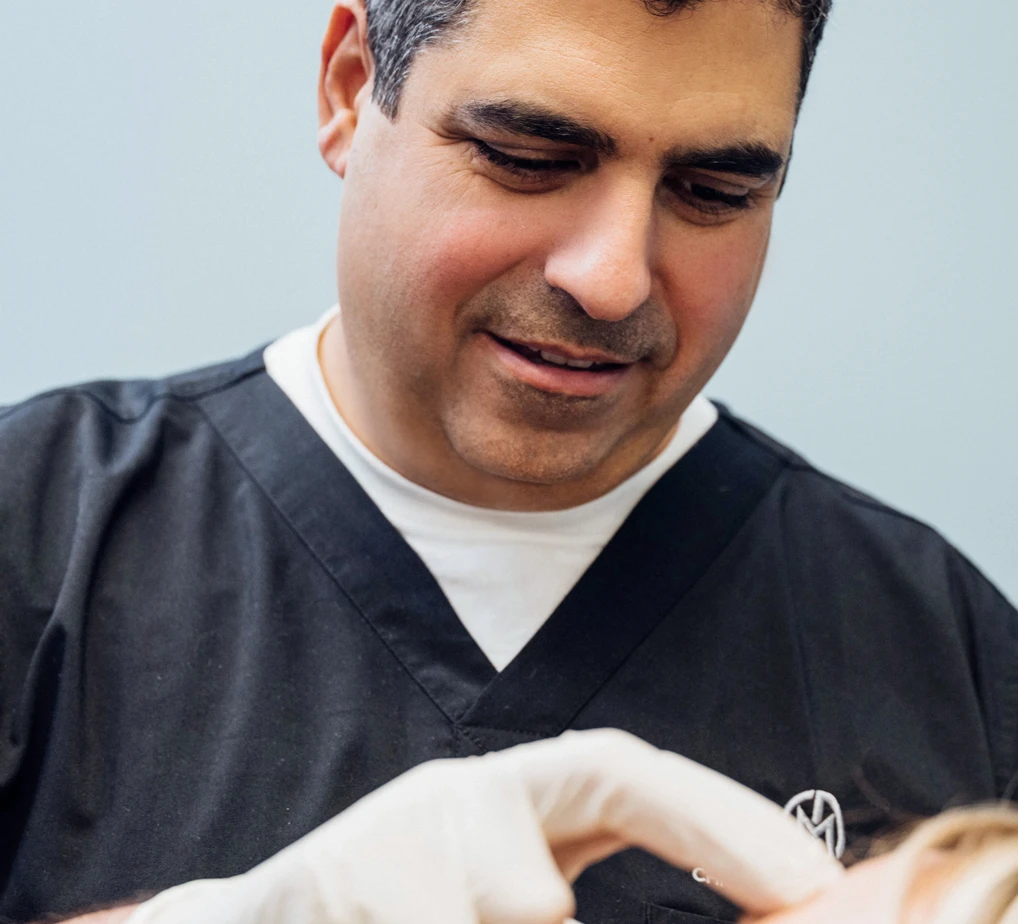 What's the first step?
The first step in getting Sculptra Non-Surgical Butt Lift in the Danville, Black Hawk, and San Ramon area is to contact the office of Christopher Manios, MD, and schedule your consultation.
When you come in for this appointment, you will meet with Dr. Manios for a private consultation where you will be able to ask any questions regarding the treatment and have your butt evaluated. You will also discuss your medical history, during which time it is important to be open and honest to avoid any unnecessary risks during your treatment or recovery.
After he has the information he needs, Dr. Manios will create your personal treatment plan, and if you agree with it, our Patient Coordinator will help you schedule your first treatment session.
What to Expect on the Day of Sculptra Non-Surgical Butt Lift Surgery
Your Sculptra Non-Surgical Butt Lift will be performed right here in our office, where you can expect a comfortable and welcoming environment where we put your safety and satisfaction as our top priorities.
Once you are ready for the procedure, you will be taken to a designated treatment room where the buttock area will be cleansed and prepared. Dr. Manios and his team may mark the injection sites on your buttocks to ensure precise placement of the Sculptra Injections. The injections will be administered using fine needles, and Dr. Manios will use his expertise to ensure accurate placement and natural-looking results.
The entire procedure typically takes about 30-60 minutes, depending on the extent of the treatment.
Sculptra Non-Surgical Butt Lift Recovery
The recuperation period may be the most popular part of our Sculptra Non-Surgical Butt Lift, as there is typically no recovery time needed. Although some bruising may occur, it should dissipate within two to three weeks. You may experience mild swelling, bruising, or tenderness in the treated area, but these effects are generally temporary and subside within a few days.
Dr. Manios will provide you with an individualized recovery plan to help you minimize any discomfort and optimize the results. These may include guidelines for care, such as avoiding pressure on the treated area, refraining from intense physical activities, and using cold compresses to minimize swelling.
How Much Does Sculptra Non-Surgical Butt Lift Cost in Danville, CA?
The cost of Sculptra Non-Surgical Butt Lift in the Danville, Blackhawk, & Walnut Creek area can vary depending on factors such as the extent of the treatment, the number of sessions required, and other individualized considerations. It is best to schedule a consultation with Dr. Manios to discuss your specific goals and receive an accurate cost estimate.
Why Choose Dr. Manios?
Our boutique practice is owned and operated by Christopher Manios, MD, a Family Medicine Specialist with over 17 years of experience in the medical field. A graduate of Temple University in 2006, Dr. Manios takes pride in providing his patients with customized treatment plans and rejuvenated natural-looking results. He is highly regarded for his expertise and meticulous attention to detail, providing his patients with customized treatment plans to achieve wonderful, natural-looking results.
Contact us today!
Schedule a Consultation
To take the first step towards achieving your desired buttock enhancement in Danville, we encourage you to contact us today! You can reach us at 925 989 6560 or use our website to request an appointment and a member of our team will be in touch with you.
Sculptra Non-Surgical Butt Lift FAQ'S
Your procedure questions answered.
"Dr. Manios and his team are simply
incredible in their professions."
Let's discuss the results you can expect