Introduction to
Sculptra Non-Surgical Butt Lift
The older we get, our bodies begin to show signs of aging that have been affected not only by time but also by our lifestyle and environment. For our face, these signs of aging are due to a loss of collagen, elastin, and bone, and a repositioning of the fat pads, which in turn makes us look saggy and tired. The biggest reason for this facial volume loss is the loss of collagen, and after about age 20, we lose collagen at an average of 1% per year. This means, by the time we are 40, we have lost 20% of the collagen framework in our face. While it does come gradually, many patients will wake up one day and not even recognize their former, youthful selves! At the practice of
Christopher Manios, MD
, we offer Sculptra to our patients in the Danville, Blackhawk, and Walnut Creek areas as a great way to turn back the clock and look your absolute best! To learn more about the treatment, please keep reading below.
What is Sculptra?
Sculptra is an FDA-approved, non-surgical treatment that uses a specialty filler made from a Poly-L-Lactic Acid designed to provide additional volume to your face while promoting new collagen production, keeping your skin smooth and tight. Sculptra is both biocompatible and biodegradable, so as your facial tissue gradually absorbs the filler while triggering new collagen production. Collagen is a protein found in the dermis layer of the skin, that gives our skin structure and support and supports the functions of elastin (our skin's ability to stretch) and hyaluronic acid (our skin's ability to retain moisture). Sculptra is a great way to improve facial volume loss and our skin, giving us a rejuvenated appearance that lasts up to 2 years. Sculptra is commonly used in the following areas of the face:
Cheeks
Jawline
Marionettes
Nasolabial folds
Temples
Or any other area with lost or lacking volume
Once injected, Sculptra works to gradually replace lost collagen and restore natural volume over time. This results in a more youthful and lifted appearance that can last for up to two years or more. Whether you want to replenish volume in your cheeks, soften deep lines and folds, or enhance your overall facial harmony, Sculptra can be customized to meet your specific aesthetic goals. Sculptra can also be used for a non-surgical butt lift to provide volume and lift for patients with a flatter backside. Dr. Manios injects deliberate quantities of the filler into strategic areas of your buttocks, giving it a rounder and more elevated appearance. For more information on a Sculptra Non-Surgical Butt Lift, please reference our page dedicated to the treatment.
What are the Benefits of Sculptra?
Our Sculptra patients have been able to enjoy the following benefits from their treatment:
Creates a smoother skin texture
Enhanced volume in your face
Hypo-allergenic treatment
Improved sense of confidence
Increased collagen production
Long-lasting and natural-looking results
Minimally invasive with no downtime
Reduced wrinkles and fine lines
Who are the Best Candidates for the Sculptra procedure?
The best candidates for a Sculptra treatment in the Danville, Black Hawk, and San Ramon areas are individuals who are looking to address signs of facial aging, such as volume loss, wrinkles, and skin laxity. Here are some factors that make someone a good candidate for Sculptra:
Have realistic expectations
Loss of facial volume
Maintain realistic expectations for their results
Overall healthy individuals
Possess good skin laxity
Wrinkles and fine lines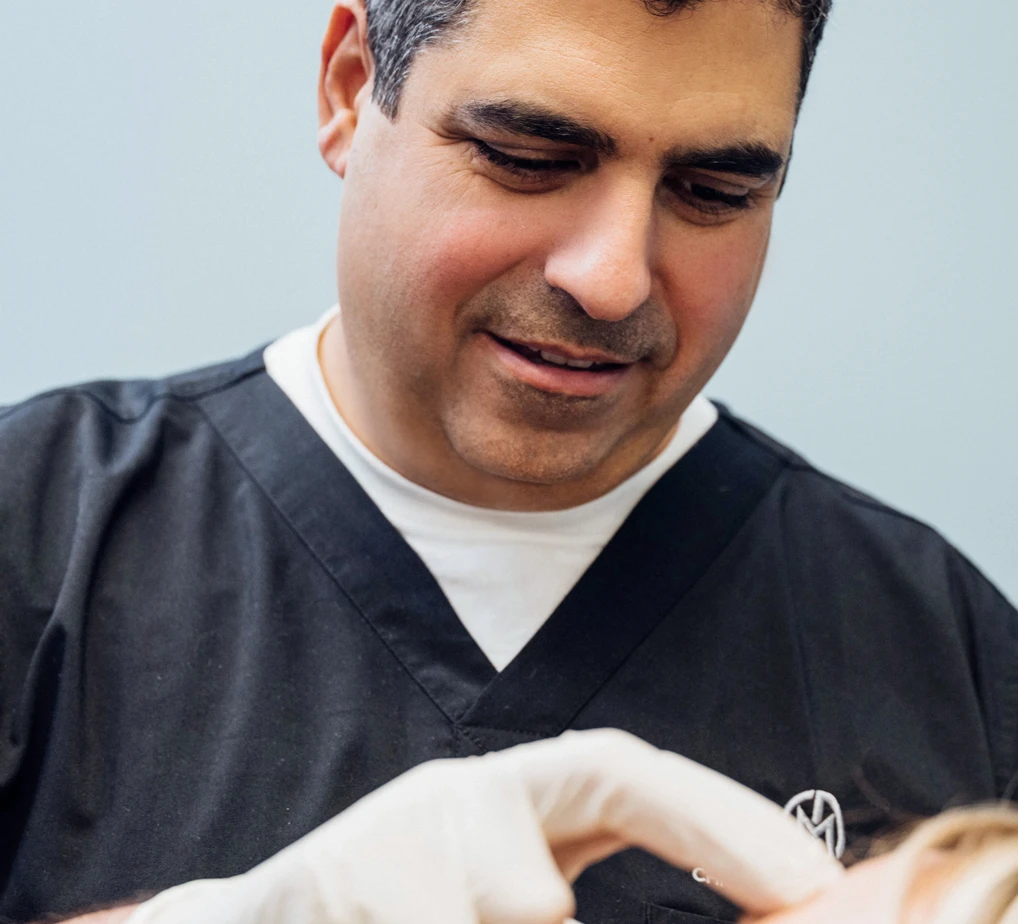 What's the first step?
If you are looking for a more youthful appearance with smooth, voluminous skin, Sculptra treatments from Dr. Christopher Manios in Danville could be a great solution! When you come in for your initial consultation, you will meet one-on-one with Dr. Manios. During this appointment, you will be able to have all of your questions answered, areas of concern addressed, and your treatment area will be examined. We encourage every one of our patients to be open and honest with their provider during their Sculptra consultation. The information you provide will help your injector make the best decisions to achieve your aesthetic goals, as well as prevent any unnecessary risks. Once the two of you agree on how your treatment will be handled, a treatment plan will be created just for you. With this information, you can receive your treatment immediately afterward or our Patient Coordinator will help you find a day better for your first treatment and set your appointment.
What to Expect on the Day of Sculptra
When you are ready for your Sculptra treatment, it will be performed right here in our clinic. You will be administered either local anesthesia or a topical cream to numb the area and ensure minimal discomfort. Next, Dr. Manios uses a needle or a cannula and syringe to inject exact amounts of the Sculptra solution into your targeted areas. The injected solution will stimulate collagen production to help you achieve a fuller face with a firmer texture and improved skin quality. Once finished with your session, you will be given a gentle massage in the treated area to gently disperse the solution, along with directions on how to properly massage the treated areas at home. Depending on the level of change you are attempting, this treatment will take about an hour to an hour and a half to complete. It's such a quick experience that many patients refer to it as the "lunch break" procedure.
Sculptra Recovery
After your session, there will be some immediately noticeable results, but your most optimal results are achieved with multiple treatments performed every two to three months. You can alleviate any mild pain or swelling with a cold pack or Tylenol during the first 24 hours post-procedure. It is crucial to massage the treated area at home using the 5-5-5 method (5 minutes at a time, 5 times a day, for 5 days). The exact number of treatments a patient will require will be decided upon during your consultation, however, please keep in mind that this number could change depending on how your body reacts to the treatment. Once you have done all your recommended treatments and have allowed the Sculptra to settle into place, the treated area(s) of your skin will be fuller, more firm, with improved skin quality.
How Much Does Sculptra Cost in Danville, CA?
The cost of Sculptra in the Danville, Blackhawk, & Walnut Creek areas is highly dependent on the amount of Sculptra needed per session and the number of sessions you will need to meet your goals. The best way to determine the cost of your treatment is to come in for a consultation and receive a full face assessment from Dr. Christopher Manios. Once Dr. Manios has a better understanding of what you're trying to achieve and how to help you get there with a treatment plan, our Patient Coordinator will provide you with a breakdown of the total cost of your procedure.
Why Choose Dr. Manios?
Christopher Manios, MD
, is a Family Medicine Specialist in Danville, CA, and has over 17 years of experience in the medical field. After graduating from
Temple University
Medical School in 2006, Dr. Manios takes pride in providing his patients with customized treatment plans and rejuvenated natural-looking results. Dr. Manios is known for his expertise and meticulous attention to detail; once you walk through the doors of Christopher Manios, MD, you'll be treated like family and develop a relationship that will last far beyond your treatment.
Contact us today!
Schedule a Consultation
If you're in East Bay and would like to learn more about the Sculptra treatment, Dr. Manios would love to help you achieve your desired look. To schedule a consultation, call us at
925 989 6560
 or use
our website
to request an appointment, and one of our friendly and helpful team members will be in touch with you.
Sculptra FAQ's
Your procedure questions answered.
"Dr. Manios and his team are simply
incredible in their professions."
Let's discuss the results you can expect