Introduction to
Dermal Fillers
The condition of your skin is very important. It can shape the world's opinion of you, affect your thoughts about yourself, and even the way you feel daily. While there is absolutely nothing wrong with feeling fine the way you are, there is something to be said about how cleaner, smoother, and increased volume in your skin can make a world of difference. Christopher Manios, MD of Danville, CA strives to offer his patients some incredible results with Dermal Fillers, seeing patients from all over the East Bay, including Blackhawk, San Ramon, and surrounding areas.
Before & After
Photo Gallery
Exceptional Results
View Results
Through years of experience, Dr. Manios has found that facial aesthetics, including treatments such as BOTOX® Cosmetic and dermal fillers, intertwines the sciences with the arts. He believes an injector should have both an artist's eye and a doctor's trained touch to create the best results. This is the balance he strives to provide to each of his patients.
What are Dermal Fillers?
Dermal Fillers are used to restore volume and fullness in the face and diminish lines or mild wrinkles. When you lose subcutaneous fat in your face, the facial muscles become more evident on the skin's surface. Other factors that can cause a loss of facial volume include facial skin stretching, heredity, lifestyle, and sun exposure. Dermal fillers can be incredibly useful for those with early signs of aging or even enhance other facial procedures.
The most common dermal filler uses Hyaluronic Acid (HA), a material naturally found in the skin. Although we produce plenty of it in our youth, the supply begins to diminish as we age, which is why wrinkles, sagging skin, and loss of volume are so much more prominent the older we get. As a natural humectant, HA can hold up to 1,000 times its weight in water, and the treatment also adds moisture and hydration to the skin when injected. Christopher Manios, MD offers our patients in Danville & the East Bay multiple dermal filler options.
Juvederm
Juvederm is the #1 selling collection of dermal fillers in the U.S. made with Hyaluronic Acid (HA), a sugar naturally produced by the body that retains moisture in the skin and is used as an injectable to temporarily add volume to different areas of your face.
We offer a wide range of Juvederm products including Juvederm Volbella, Juvederm Voluma XC, Juvederm Vollure, Juvederm XC, and Juvederm Ultra Plus XC
Restylane
Restylane is a cosmetic filler injected into areas with decreased volume that appear in your face over time due to aging, smoking, and the effects of gravity and the sun. This filler is hydrophilic with the purpose is to adding volume, thus diminishing or almost eliminating fine lines and wrinkles.
We are proud to offer the full Restylane line, which includes Restylane-L, Restylane Lyft with Lidocaine, Restylane Silk, Restylane Kysse, Restylane Refyne, Restylane Defyne, and Restylane Contour.
What are the Benefits of Dermal Fillers?
Our Danville area Dermal Filler patients have been able to enjoy the following benefits from their treatments:
Boosts self-confidence
Can combine with other treatments
Customizable
Erases lines and wrinkles
Increase collagen and elastin production
Little risks involved
Long-lasting results
No downtime
Plumpens thin lips
Produces subtle effects
Reduced scarring appearance
Results are almost immediate
Who are the Best Candidates for Dermal Fillers?
A great candidate for Dermal Fillers in Danville, Blackhawk, and San Ramon are those with these characteristics:
Are overall physically healthy
Don't smoke
Maintain a positive attitude with realistic expectations toward your results
Stay committed to maintaining good skin health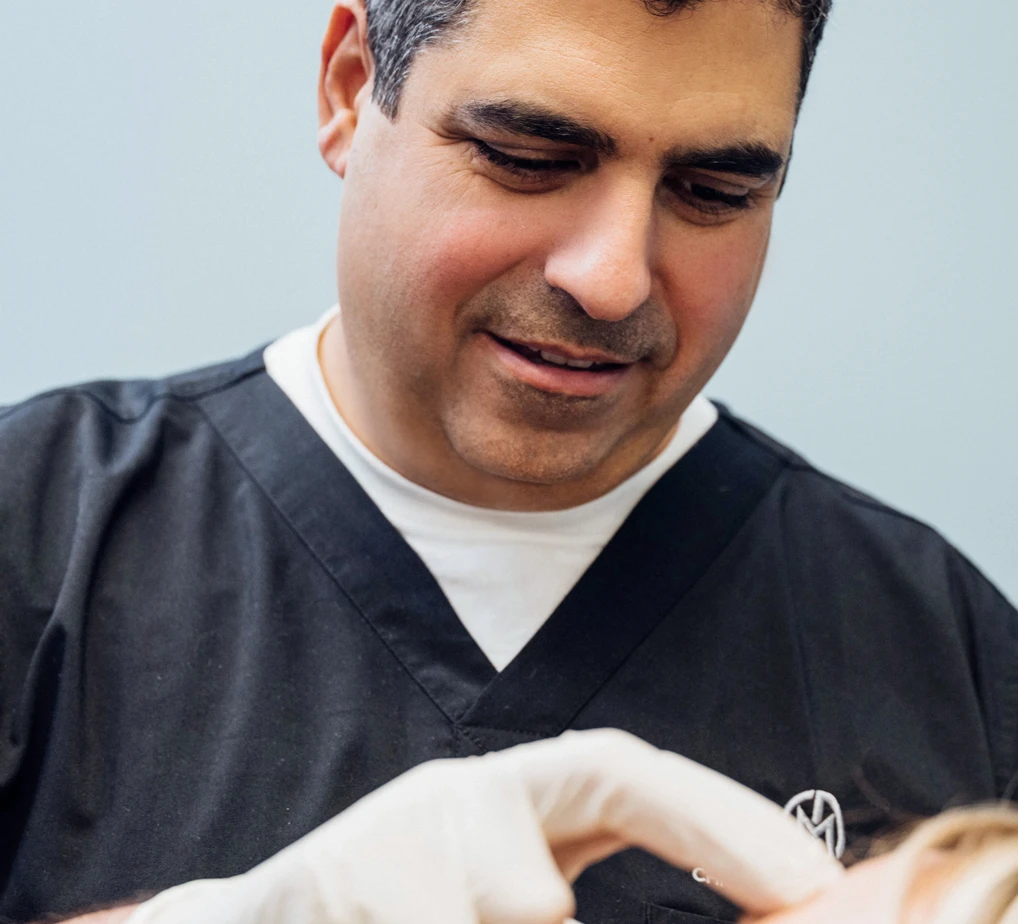 What's the first step?
The first step in getting Dermal Fillers in Danville is to contact our office and schedule your consultation. When you come into our boutique Medical Spa, you will be able to meet with Dr. Christopher Manios and discuss your aesthetic goals. He will evaluate your skin and ask you questions regarding your medical history. It is very important when answering these questions that you are honest and open with Dr. Manios. What the two of you discuss is completely discreet and confidential, but your clarity helps prevent any unnecessary risks during your treatment or recovery. After discussing these basic points of the appointment, Dr. Manios will go over the types of dermal fillers we offer and which one he believes is best for you. Once the two of you agree, he will create your treatment plan. You will be able to receive your dermal fillers immediately following your consultation, but if you would like to reschedule for any reason, our Patient Coordinator will be able to help you with that.
What to Expect on the Day of Dermal Fillers
Before your Dermal Filler is administered to you, a topical numbing cream or cold compress will be applied to the treated area to alleviate any discomfort from the needle. Dr. Manios may make some strategic marks on your face to indicate where he plans on adding the filler. Next, using a very fine needle, he will begin injecting exact amounts of the filler you selected into the targeted areas of your face. He will gently massage the filler to evenly distribute it, then the two of you will evaluate your appearance, and he will only add more filler if you both feel like you need it. Each injection will only take a few moments, and if you are happy with your results, we will give you an ice pack to gently place on the treated areas to minimize swelling or bruising.
The treatment itself will only take about 30 minutes total, but we will have you remain in our office for 10 to 15 minutes to make sure you don't have any allergic reactions to the filler.
Dermal Fillers Recovery
After you leave our office, you will be able to return to your normal routine, however, we recommend avoiding any activities that are strenuous or could impact the filler for the first 24 – 48 hours to minimize swelling or bruising. Some patients do feel a little tender the first day or so following their treatment, but it should be able to be treated easily with an ice pack or over-the-counter pain medication.
You may initially have an "overfilled" appearance in the treated areas, as well as some minor swelling or bruising, a little bit of redness, and you may even feel some lumps or bumps due to the filler. These reactions should subside over a few hours but can take a few days before revealing your final results. Most of our patients see the true effects of dermal fillers after a few weeks when the filler has a chance to settle into your tissue and can last anywhere from six months to a year, with some fortunate individuals seeing results that last longer than that.
How Much Do Dermal Fillers Cost in Danville, CA?
The cost of Dermal Fillers in the Danville area is based on a number of factors, including how much filler is used and which type of filler you choose. After Dr. Manios can create your treatment plan, our Patient Coordinator will be able to use that information to give you a price breakdown of your treatment.
Why Choose Christopher Manios, MD
At our boutique Medical Spa, we are committed to providing our patients in Danville, Blackhawk, and San Ramon with a personalized experience with high-quality and natural-looking results. Since we know that every person is built differently and has their own needs and goals, our approach to each patient utilizes individualized attention, understanding, and adaptation to create custom treatments for every patient that walks through our doors. Our MedSpa is owned and operated by Dr. Christopher Manios, a Family Medicine Specialist who has been practicing medicine for over 17 years. Dr. Manios earned his medical degree from the Lewis Katz School of Medicine at Temple University and takes pride in providing his patients with rejuvenated natural-looking results.
Contact us today!
Schedule a Consultation
Dermal Fillers are a quick and easy way to have a fuller, smoother-looking face. If you are in Danville, or anywhere in the East Bay, you should call our office and schedule your consultation with Dr. Manios. To schedule your consultation, call us at 925 989 6560 today or request an appointment through our website, and a member of our team will be in touch with you!
Dermal Filler FAQ's
Your procedure questions answered.
"Dr. Manios and his team are simply
incredible in their professions."
Let's discuss the results you can expect